In another life, I was born in Nashville. I ate at the Loveless Cafe with my family on Sundays where we feasted on biscuits, chicken fried, and pie. Lots of pie. I grew up playing the banjo, listening to Loretta Lynn, and cooking with butter in cast iron skillets.
In this life, which is a fine and love-filled one, I was born in New Jersey. I ate, and continue to eat with my family on Sundays, really most days, whether it be at home or at our favorite spots. I grew up playing the violin and clarinet, and listened to Motown and classic rock, my parents' favorites. We cooked with olive oil in huge pots, enough food to feed the family and any guests that wandered in.
James came along and introduced me to Texas barbecue, taught me to cook in a Dutch oven over open flames, and took my family on our first family vacation in years to Tennessee. My two lives collided, and this Italian girl from Jersey has found her love of skillets and heavy cream.
My latest experiment in Southern fare was a decadent mini apple pie with a lattice crust of crisp smoked bacon - a delightful combination of salty and sweet, inspired by this recipe from Loveless Cafe. And make sure you scroll to the very end, as there are a collection of Apple recipes from a fine group of foodie friends for #aisforalltheapples !
Ingredients
Instructions
Preheat the oven to 350 degrees. Peel and slice your apples into 1/2 inch slices. In a large bowl mix all the dry ingredients until blended. Add the apples to the dry ingredients and toss until coated.
Place the pie shells over your mini pans. Leave about 1 inch of crust over the edge, and trim the remaining with a pasta cutter or knife. Reserve the extra crust for other use.
Divide the apples and any juices that have accumulated among the two pans. Weave the uncooked bacon in an alternating over and under pattern atop the apple filling. Tuck the bacon edges into the apple filling. Crimp the crust over the bacon edges to seal the pies.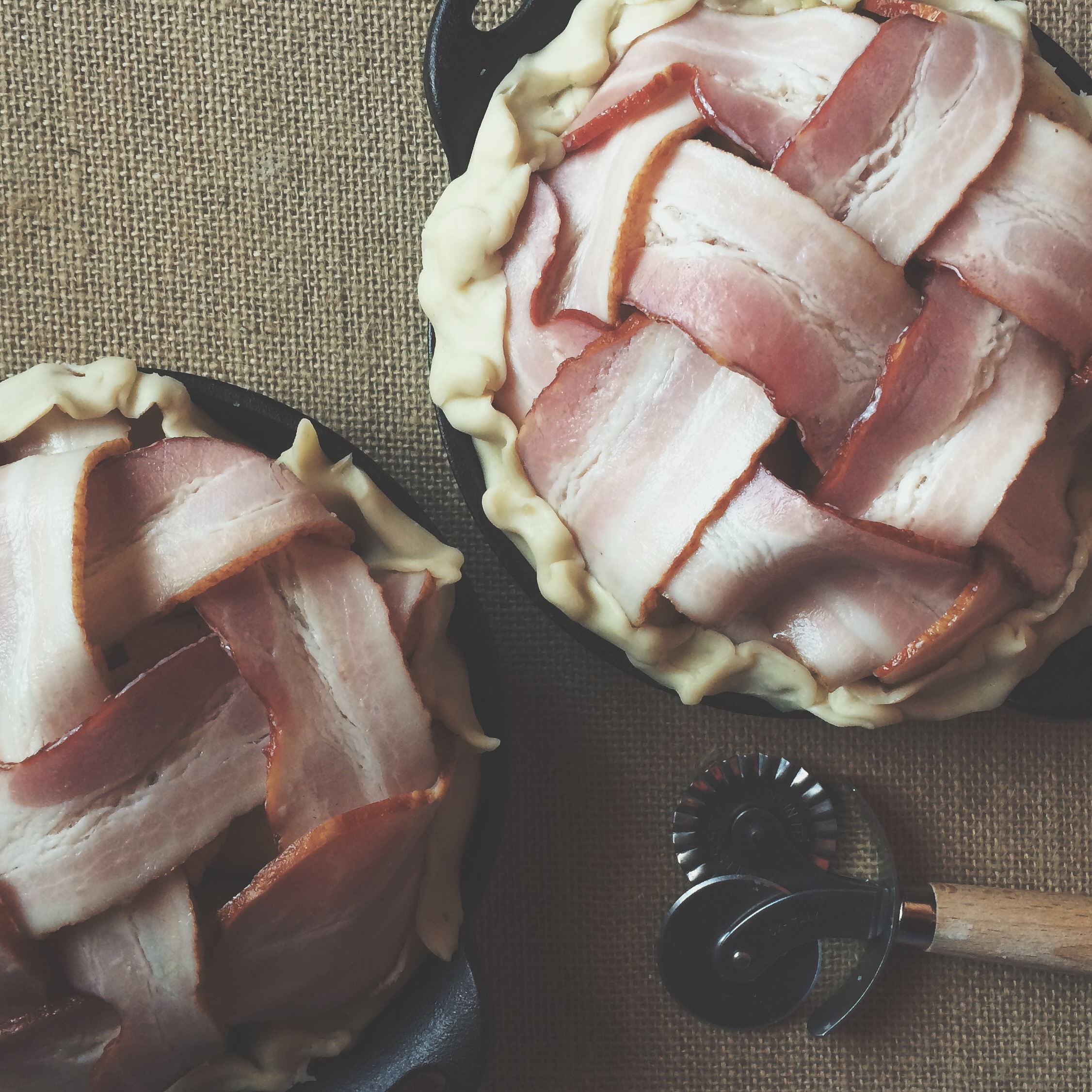 Cover the pies with foil and bake for 1 hour. Remove the foil from the pies, and return them to the oven. Cook for 15 minutes or until bacon is crisp. Cool before serving, and enjoy!