A year ago today, by the time most of you will read this, James and I walked down the aisle in a quaint little church on a crisp afternoon. The sun smiled down on us, brightly colored mums lined the pathways and nearly everyone we love was there. It's uncanny to imagine a year has passed since our wedding day, but I knew we would be coupled well before that day. On our very first date which was a camping trip in the Shenandoah Valley, I know, what was my mother thinking letting me go camping with a man a decade my senior in another state far from the reach of her grasp, it was immediately apparent that he and I would make fitting partners to navigate this world together. It was not something the storybooks convey as love at first sight but rather a divine mandate: he will need someone like you, and you will need someone like him. James is the tahini to my chocolate cake.
I had the pleasure of meeting one of my very favorite food writers, Molly Yeh at the launch party for her book Molly on the Range in the dwelling of all decent food dreams, Food 52. I gave her a chicken I made from nails and baker's twine in the fashion of her beloved farm friends, Macaroni. She was warm and as whimsical as her prose, and it was a significant moment for the fan girl in me. I colored a beautiful layer cake next to her mama, another woman genuine and kind. My mama joined me that night and we nibbled on decadent macaroni and cheese, hummus, and brussels sprouts rosti. We got temporary tattoos- a cheeseburger for me, a sugar beet for mama. Molly demonstrated the frosting of a layer funfetti cake, and small cupcakes were whisked around the room by sharply dressed individuals who were equal parts cool and unpretentious. Each bite a burst of nostalgia. Molly's book is an exceptional recount of her unlikely life on a farm spoken with wit and sophistication, and balanced by humility and candor. It is a treasure and worth adding to your collection.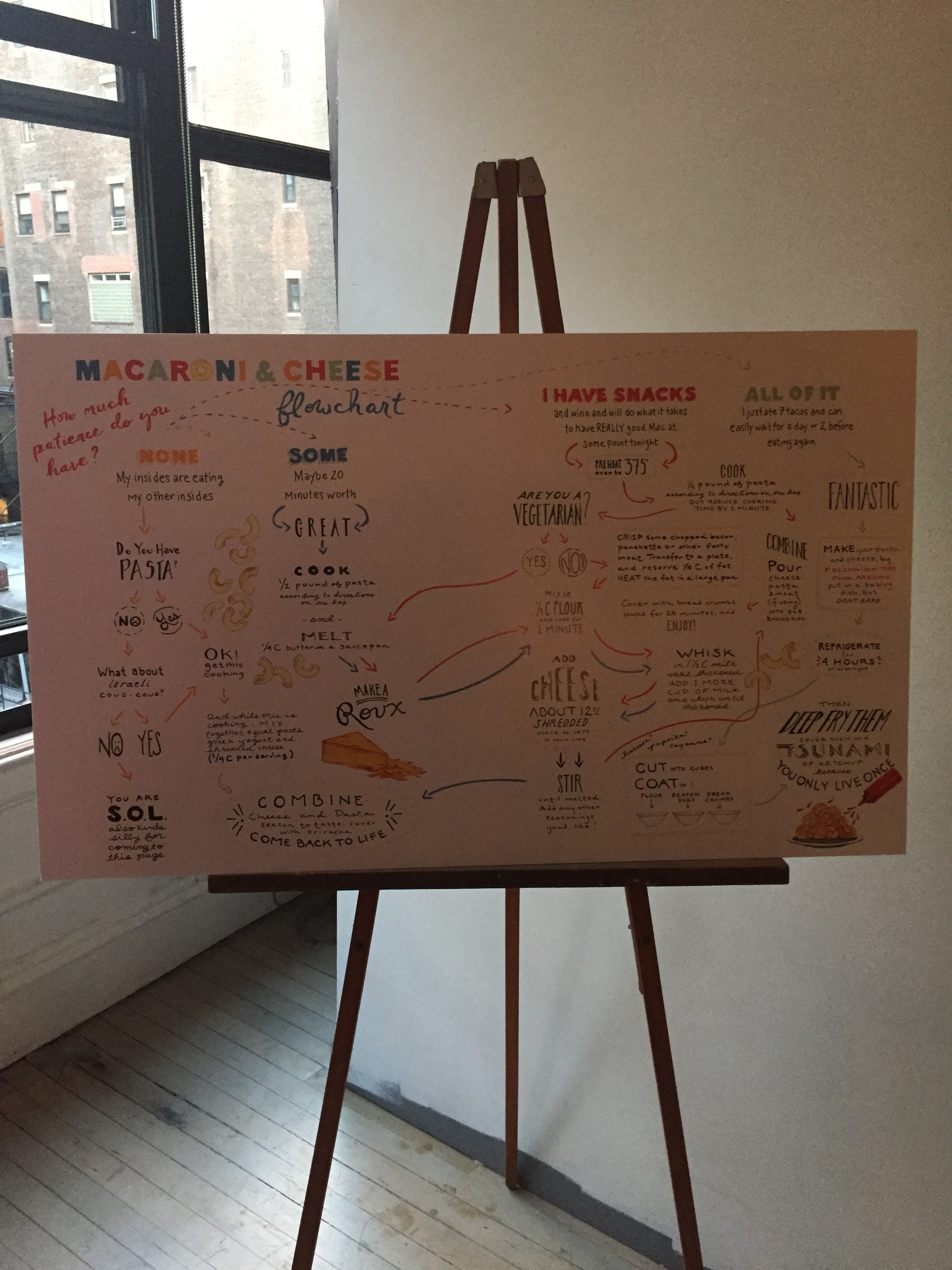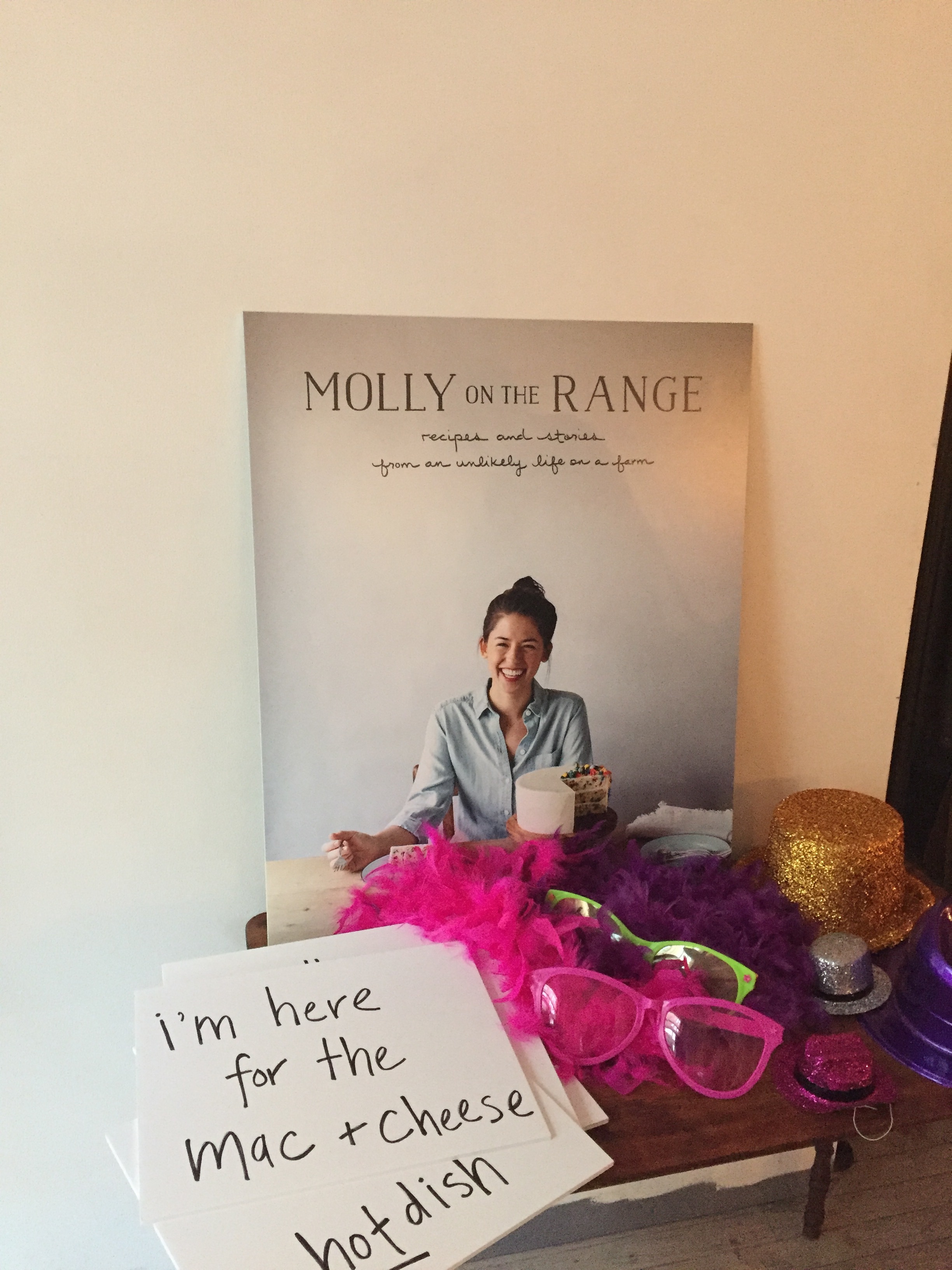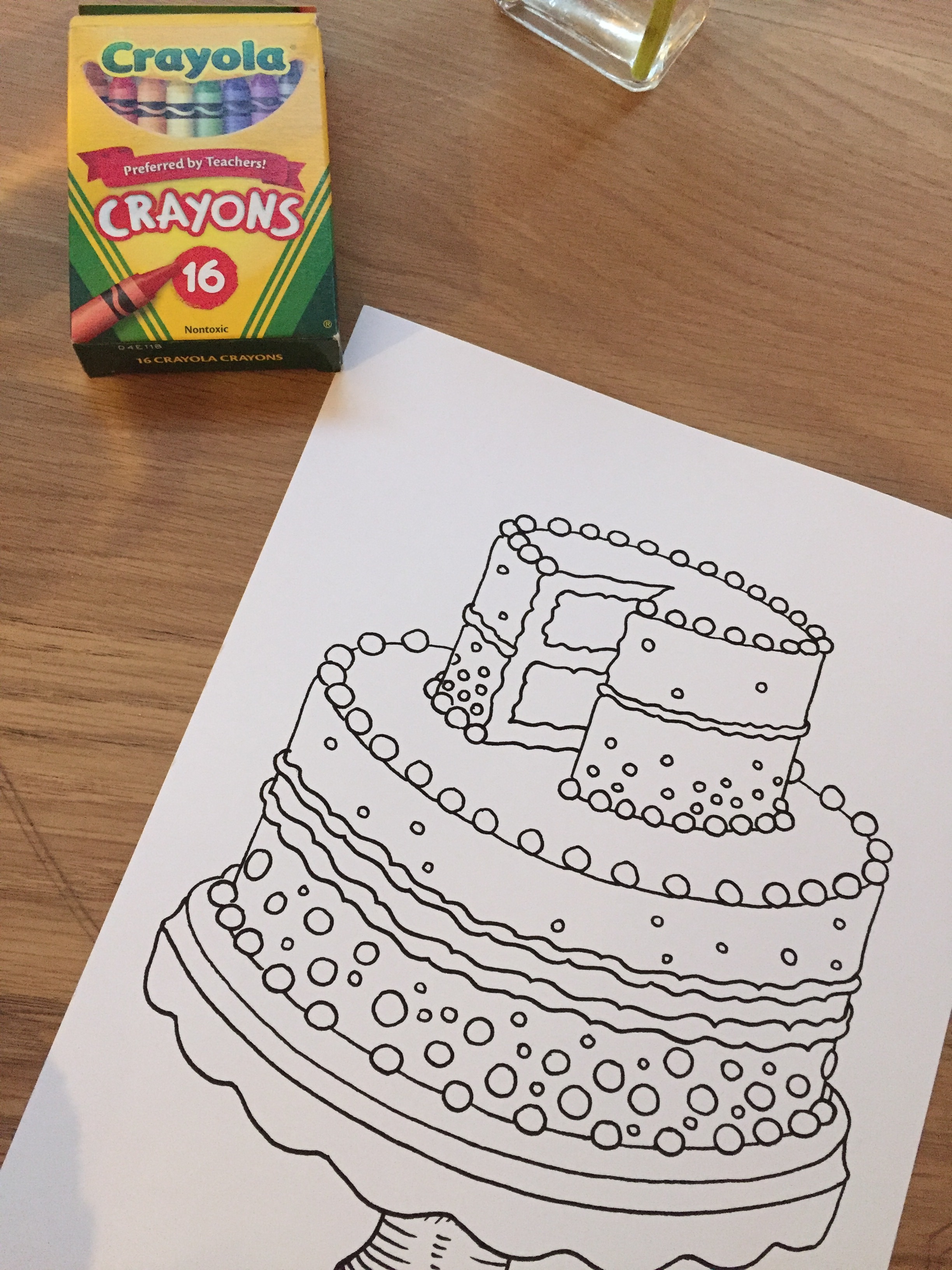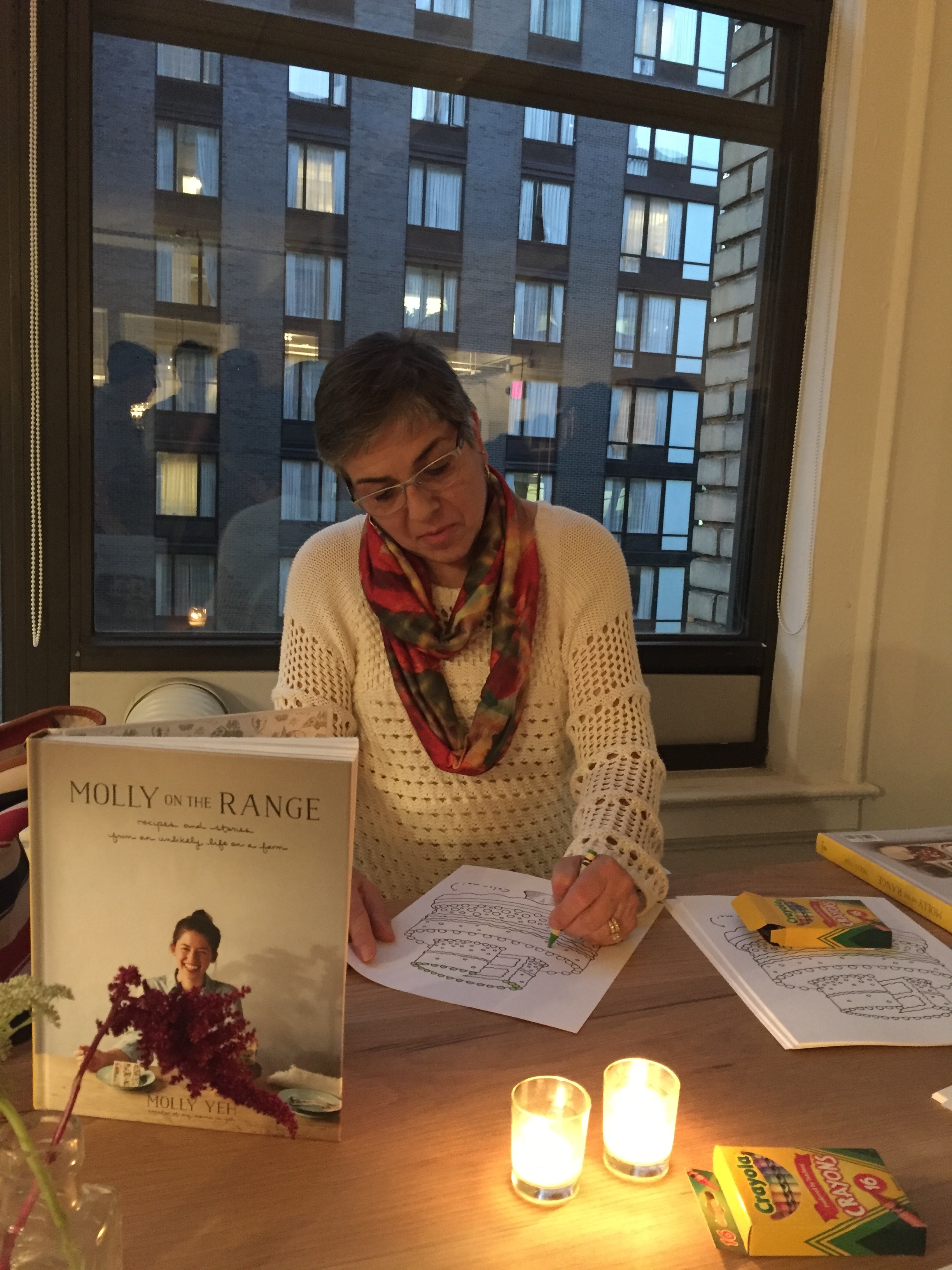 One recipe spoke to me in that it is an unexpected union, Chocolate Tahini Cake with Tahini Buttercream. As we near our anniversary, this cake inspired in me feelings of the beauty that arises when unlikely companions finally come to rest with one another. When I was in elementary school, James was enlisting in the United States Marine Corps. While he was guarding the US Embassies in Jerusalem and Paris, I was struggling through the high school dating scene but thriving academically. I played the clarinet in the marching band and swam on the swim team. He had three varsity letters. Nearing the end of my studies at Georgetown I had a difference of opinion with a colleague at an early childhood learning center where I worked, and in the heat of the moment I decided to quit entirely. I wandered down M Street with a resume in hand and walked into Filomena's Ristorante hoping to land some sort of income to fuel my Ben and Jerry's habit. I was hired by Dino, everyone knows Dino, and began work as a hostess. A man in chef whites with sad droopy eyes was sitting at a table with one of the managers. Our eyes met briefly, and then I think an entire month passed until I saw him again. I remember wanting to understand what made his eyes so very sad.
One evening I was confirming reservations and this mysterious man walked past me carrying a strawberry. He said it looked like an elephant, mumbled a few more indiscernible words and strode off in his kitchen clogs. Fast forward to graduation from Georgetown and I moved back home to New Jersey after performing at the Vatican with my school choir. I received an enigmatic email of just a few words from Chef James, my James, inquiring if I had pictures from my trip. He loved religious history and wanted to share in my experience. Emails became texting, and texting became calling. Calling became weekend camping trips, campfire hotdogs, sinful whoppers after working a double, and train rides home to New Jersey. I worked briefly at Simon and Schuster, during our courtship if you will call it that. Very briefly. I was tasked with faxing paper orders day in and out, and on the sixth day after a reasonably unpleasant commute, I walked out and did not return. I moved to Washington DC the month following. I think I had missed Chef James. The tahini to my chocolate cake, the strong foundation to my fleeting fears. The suck it up to my there, there dear, be still. The line dance to my ballet lesson, and the Jack to my coke. This past year has not been without challenges, both of us flawed and complex. But the challenges we encounter with grace, and the joys we encounter with wonder. I've grown very fond of this cake.
Icing
1 cup unsalted butter at room temperature
1/2 cup tahini
2 cups powdered sugar
1/2 teaspoon kosher salt
1/4 teaspoon ground cinnamon
1 1/2 teaspoons vanilla extract
Cake
1 3/4 cups sugar
1 3/4 cups flour
1 cup unsweetened cocoa powder
1 1/2 teaspoons kosher salt
1 1/2 teaspoons baking powder
1 1/2 teaspoons baking soda
2 large eggs
1 cup whole milk
1 tablespoon vanilla extract
1/2 cup vegetable oil
1/2 cup tahini
3/4 cup boiling water
To Prepare:
Preheat the oven to 350 degrees F. Grease and line the bottoms of two 8-inch cake pans.
In a large bowl, whisk together the sugar, flour. cocoa powder, salt, baking powder, and baking soda. In a medium bowl, whisk together the eggs, milk, vanilla, oil and tahini. Add the wet ingredients to the dry ingredients and stir to combine. Whisk in the boiling water.
Pour the batter into the cake pans and bake until toothpicks inserted into the center comes out clean or about 28 minutes.
Let the cakes cool in the pans for 10 minutes and then remove to a rack to cool completely.
For the frosting, mix together the butter and tahini until creamy in a stand mixer with a paddle attachment. Gradually add the powdered sugar and mix to combine. Mix in the salt, cinnamon and vanilla.
Level the cakes and stack them with a layer of frosting in between. Frost the top and sides of the cake and finish with sprinkles.